---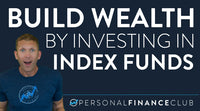 Give the gift of financial literacy!
This is a gift voucher for the "Build Wealth by Investing in Index Funds" course.

If you are debt free and are ready to build some serious wealth for your future, this course is for you! Investing is NECESSARY to build wealth and retire (early!), and we'll show you the simple way to do it.

You will receive a unique gift code to send to your recipient. They can use the code to get the course for 100% off!  
The gift code never expires and 20% of all sales go to charity!
Instructions to redeem a gift code can be found here: https://www.personalfinanceclub.com/redeemcourse/