---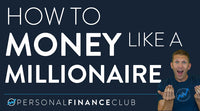 This is a gift voucher for the "How to Money Like a Millionaire" course.

Learn the essentials of personal finance that are needed to thrive with money: getting out of debt, credit scores, taxes, insurance, estate planning, budgeting, and more. And see how an actual millionaire handles all of these!
You will receive a unique gift code to send to your recipient. They can use the code to get the course for 100% off!  
The gift code never expires and 20% of all sales go to charity!
Instructions to redeem a gift code can be found here: https://www.personalfinanceclub.com/redeemcourse/